Michael: The Carpenter Vs. The Hammer
via
PERRspectives blog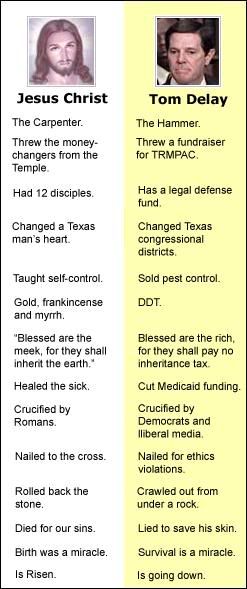 "Emotional appeals about working families trying to get by on $4.25 an hour [the minimum wage in 1996] are hard to resist. Fortunately, such families do not exist."
- Tom DeLay, From the Congressional Record, H3706 [1996 April 23]

"Do not tell lies... for all things are plain in the sight of Heaven."
- Jesus Christ

"I am the federal government."
- DeLay was responding to a government employee who tried to prevent him from smoking on government property. As reported in the New York Times [2003 June 13]

"I am the way and the truth and the life."
- Jesus Christ

"Nothing is more important in the face of a war than cutting taxes."
- Tom DeLay From a speech made to bankers [3/12/03]

"Blessed are the peacemakers, for they will be called sons of God."
- Jesus Christ

""You know, the Democrats want to balance the budget by raising spending and raising taxes. The Soviet Union had a balanced budget."
- Tom DeLay, Meet the Press, 12/22/2003

"Go sell crazy somewhere else, we're all stocked up here!"
- Melvin Udall played by Jack Nicholson in "As Good As It Gets"