Arizona's Iraq War Dead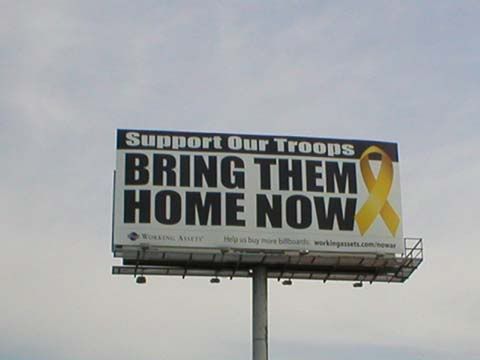 We should never lose sight of the simple fact that the lives of every soldier is in the hands of their Commander in Chief. His duty is to make every effort to ensure that they are not needlessly placed in harms way and that they are provided the equipment and training and strategy they need to suceed. If they fail, the blame lies always with the Commander; never with those who gave their last full measure.
Bush's decisions, to prosecute a voluntary war of aggression against an impotent and already neutralized foe, and then to utterly neglect the prudent planning for the aftermath of that war, to go in fast and cheap without the mass and equipment needed for the mission, cost these citizen-soldiers their lives. The blood of every American soldier who dies in Iraq is on Bush's hands as much as it is on the hands of the Iraqi irregulars: no wonder he refuses to attend their funerals.
Here are the names of the brave and selfless Arizonans to date who won't be coming back to their families because of Bush's lies and poor judgement. Read their names and honor their sacrifices. They died for duty and their nation's honor. My sorrow and condolences to their families and friends.
Campoy, Isaac - Specialist
Cataudella, Sean K. - Sergeant
Cooke, Eric F. - Command Sergeant Major
Downey, Michael A. - Lance Corporal
Ehrlich, Andrew C. - Specialist
Halal, Michael J. - Lance Corporal
Karol, Spencer Timothy - Specialist
Keith, Quinn A. - Lance Corporal
Lapka, Christopher J. - Corporal
Laskowski, Matthew C. - Chief Warrant Officer
Latham, William T. - Staff Sergeant
Lawrence, Jeffrey D. - Corporal
McIntosh, Joshua - Hospitalman
Merila, Michael M. - Specialist
Nicolas, Dominique J. - Corporal
Onwordi, Justin B. - Specialist
Owen, Michael G. - Sergeant
Padilla-Ramirez, Fernando - Sergeant
Peterson, Alyssa R. - Specialist
Piestewa, Lori Ann - Private 1st Class
Prewitt, Tyler D. - Sergeant
Ramsey, Carson J. - Private
Reeder, Edward T. - Gunnery Sergeant
Shondee Jr., Harry N. - Private 1st Class
Sisung, David - Petty Officer 3rd Class
Thomas, Carl - Sergeant
Unruh, Robert Oliver - Specialist
White, Nathan Dennis - Lieutenant
Williams, Michael Jason - Lance Corporal
Wong, Elijah Tai Wah - Sergeant
Zurheide Jr., Robert Paul - Lance Corporal